January 16, 2018
In January of 2016 I wrote a post about bad passwords and why you should teach your kids to use good passwords. Guess what? That tip is still relevant.
This is still true. In some ways it is perhaps even more true. Why? Because there are more devices and services in our lives. I have numerous networked thingies in my house, and it feels like I add at least one new account every week. EVERY COMPANY wants you to have an account with their service. Why? Marketing. Selling. AND THE ILLUMINATI. Mostly the first two. BUT MAYBE EVEN THE THIRD. Bottom line: more accounts, more devices, more passwords. Is it annoying to come up with unique passwords for every frickin' new account? Of course it is! Do you have to do it in order to avoid problems? Yeah. Yeah you do.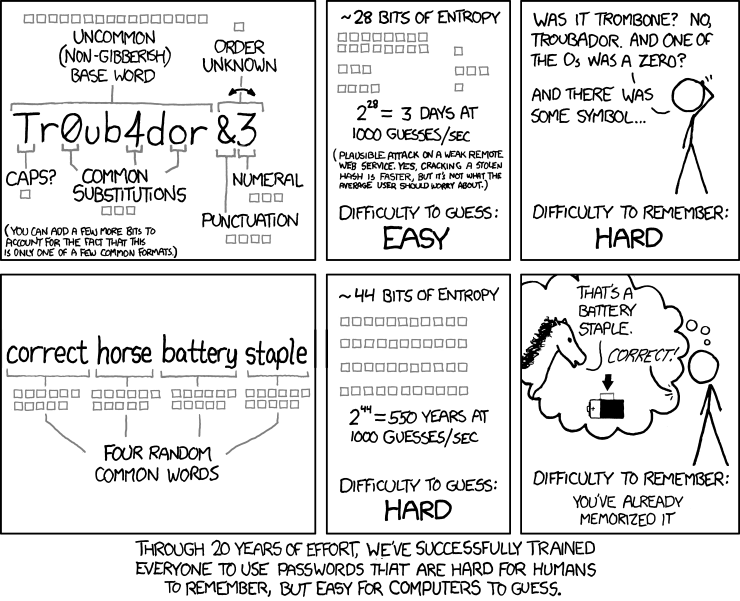 Here's the extremely brilliant webcomic XKCD's version of how to handle this problem. The problem with this? Don't use this password because it's in a comic. HOWEVER! The good folks at XKCD made a password generator you can use.
Whatever you do, don't use Star Wars themed passwords. With the release of The Last Jedi, I'm gonna guess more than a few people are going to be using "Kylo Smoak" or something even more cleverer.
Bottom line: use hard to guess passwords. If you can't even remember it, all the better.
Related articles (Note: These are offsite links; DaddyTips takes no responsibility for outside content.)