Posts Tagged 'family'
May 04 2015
Avengers: Age of Ultron ruled the box office this weekend. And before that, it ruled director Joss Whedon's life. This was, according to the director, difficult on him because he has a family. Here's what he said in an interview:
"When I watch it, I just see 'flaw, flaw, flaw, compromise, laziness, mistake,'" said Whedon. "The reason I set out to make another film is because I wanted to make one that was better, and I wanted to up my game as a shooter and work harder on every aspect of it and sort of give myself up to it in a way that's hard for me, because I have a family. I started as a writer in low-budget TV, and there was always this element of, 'This is good enough.' And with this movie, I never wanted to say, 'This is good enough.'" (emphasis added)
And now the explanation. Read more »
Jan 17 2012
XKCD on kids vs. no kids. This pretty much covers it.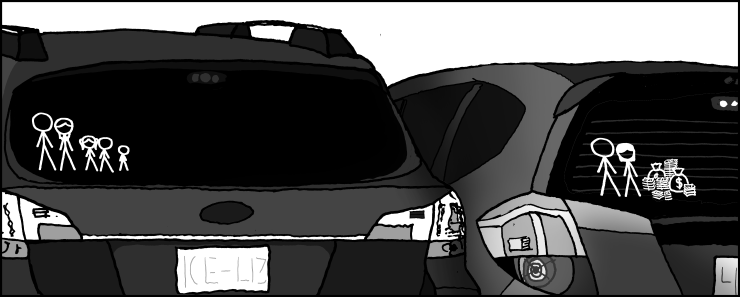 Jun 08 2009
I've noticed something about a lot of the books I read to my youngest son.
Dad usually looks the same.
There are variations, but certain themes seem to pop up.
Here are some examples: Read more »
Jul 08 2008
Here's a problem we'd all like to have: the Rooney family is trying to keep The Pittsburgh Steelers a family-owned NFL franchise for as long as possible. To do that, Dan Rooney and Art Rooney II are attempting to buy out their siblings. For about $35 million each. The idea is to keep local billionaire Stanley Druckenmiller from owning the team.
Part of the issue is that the NFL, with typical hypocrisy, wants to eliminate any connections to gambling interests. The Rooneys own racetracks, which Roger Goody-Goody-Goodell has a problem with.
The daddy-part of the story (other than that I wish the Rooneys would adopt me) is this:
Their father, Art Rooney Sr., was heavily involved in gambling and, according to legend, bought the Steelers in 1933 with $2,500 in racetrack winnings. But the NFL now frowns on any ownership association with gambling.
That last sentence is pretty funny, since NFL events such as, oh, I don't know, the Super Bowl, generate insane amounts of money via gambling. As long as the NFL isn't directly involved, I guess it's OK, right?
My dad left me $1,000 which I never saw because my mother needed it for something. So, you know, I can't relate to this at all. Talk about the DNA lottery. Not bitter, good for them, but sheesh. Come to New York and buy me a drink or something.
(image: Amazon.com)