Posts Tagged 'Midtown Comics'
Jun 09 2015
For my kids of course. For my kids.

Guardians Of The Galaxy Dancing Groot Solar Powered Body Knocker (Midtown Comics)
Oct 14 2014
If you are the son of Thanos, it would make sense that you would have some serious Daddy Issues. (Thanos, aka "who is the purple guy at the end of the avengers movie", still a popular Google Search autocomplete. He also appeared in "Guardians of the Galaxy", but it wasn't as cool it could have been. "Guardians" was a great movie, lots of fun, go see it. Thanos could've been scarier though. Now back to the point.)
Here is the description for a new comic book featuring Thane, son of Thanos.
At the close of INFINITY, Thane discovered he was the son of Thanos and that his touch was death.
Now, accompanied by the constantly whispered advice of the Ebony Maw, he wants to discover his father's history, and his own future.
In other words, Thane (whoever that is) was unaware that (a) he was the son of Thanos, the mad Titan who wants to kill every living being in the universe in order to impress Death because he's in love with her (yes, really — remember, comic books) and (b) when he touches people they die. (Which I suppose would make him pretty popular with dear old Dad.) Now he knows (a) and (b). That's just… blech.
So yeah. Like I said. Daddy Issues.
Thanos A God Up There Listening #2 – Midtown Comics.
Marvel's The Avengers (Four-Disc Combo: Blu-ray 3D/Blu-ray/DVD + Digital Copy) at Amazon.com
Related articles (Note: These are offsite links; DaddyTips takes no responsibility for outside content.)
Jul 22 2014
These are grown-up sippy cups. Comic book character themed grown-up sippy cups. I suppose you could get one for your kid, but I think they are being marketed at adults. Two designs – Punisher and Deadpool. Here's the Punisher model: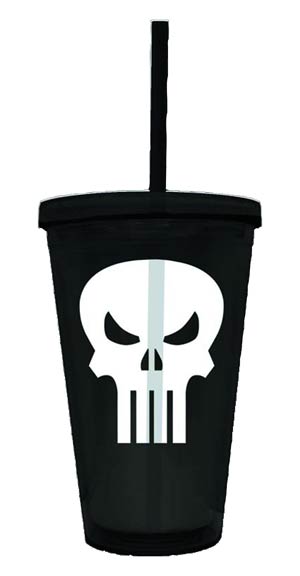 $11.99. Such a deal! Well, if you like that kind of thing.
Marvel Heroes Symbol Acrylic Cup – Punisher – Midtown Comics.