Posts Tagged 'NASA'
Aug 02 2018

ZDNet reports that NASA's Jet Propulsion Laboratory (JPL) has released plans for folks to make their own mini version of the Mars Curiosity Rover.
JPL has released designs and instructions on the now Microsoft-owned GitHub for building the mini rover that presumably will be mostly Earth-bound, rather than roaming over Mars or any other planet, unless you're buddies with Elon Musk.
…
JPL released the instruction kit to show that it actually does take a rocket scientist to build one of these, but that those skills can also be learned by hobbyists and students.
"One would rightfully assume it takes expertise in mechanical engineering, software development, and electronics to even begin to construct such a complex robot," JPL says in its announcement.
"Now students, hobbyists, and enthusiasts can learn about these skills and get a taste of what it is like to construct such a rover using plans and instructions from JPL's Open Source Rover Project."
In other words, this isn't one of those tin can robot kits, because it's from, like, NASA. But even if it isn't something you can knock out in an hour, it's still pretty cool of them to release it to the wild.
Also cool: the project is Raspberry Pi-based.
It won't be cheap – the cost should be around $2500. But remember, we're talking about a mini Mars Rover. You thought maybe it should be under ten dollars?
Source: ZDNet
Mar 06 2016
Astronauts return to Earth! That's right, folks, NASA astronaut Scott Kelly has touched down on terra firma, along with his fellow space travelers, after spending almost a full year on the International Space Station.
The above paragraph should be read in an old-timey newsreel type of voice. That's how I heard it when I was writing it.
Mostly, as I've been saying — SPACE TRAVEL! It's awesome.
Major Tom (OK, commander Scott Kelly) is back but NASA is apparently still working on getting to Mars. (See related links below.)
Mars. So cool.
Is anyone else excited about this? I mean obviously some people are. But are any of you folks? DaddyTips readers? Friends of DaddyTips readers? People who stumbled across this site from a search engine? Do you think space travel is cool?
When you hear "astronauts return to Earth" do you feel a little flutter in your gut? Or is it just another tidbit of news that flits by your eyes like so many digital space junk?
(Heh heh. Space junk. Sorry.)
For me, I'm happy to hear about space exploration and that it's getting news coverage. That means that at least I'm not the only one still dreaming of hopping a flight to Mars.
NASA astronaut Scott Kelly is back on Earth.
Source: Scott Kelly back on Earth after nearly a year in space – CNN.com
Related articles (Note: These are offsite links; DaddyTips takes no responsibility for outside content.)
Jul 23 2015
This is so cool. NASA has found an Earth-like planet, described as "Earth's bigger, older cousin."
Read the full story at CNN.com.
Related articles (Note: These are offsite links; DaddyTips takes no responsibility for outside content.)
Jul 14 2015
Guess what? Earth people (or at least devices built by Earth people, specifically people at NASA) have finally gotten close to Pluto. And they took pictures!
From BusinessInsider:
"People didn't think it could be done … but it's worked essentially flawlessly for the last nine years," Alan Stern, principal investigator of New Horizons, said about the spacecraft and its mission on Tuesday at a NASA briefing.
For decades, the Plutonian system was the only one of the original nine planetary systems in the solar system unexplored by the space agency.
Now, NASA has become the first organization to reach the dwarf planet and its moons, and it can finally tick off that empty check box marked "Pluto."
Usually I hope for the discovery of alien beings on other worlds. In this case, though, I kinda hope there aren't any Plutonians. If there are, I hope they don't mind that we demoted their world to "dwarf planet" status awhile back.
This of course assumes that the Plutonians are capable of aggressive action, and if so, are interested in attacking us. Which is not a given. The planet could be populated by super-intelligent shades of the color blue, for example. (Apologies to Douglas Adams.)
No matter what, I say GO NASA GO! YAY SPACE TRAVEL! (Remember when we said it was time to get more excited about space travel? We meant it. Yay outer space!)
Source: Humankind visits Pluto for first time – Business Insider
Related articles (Note: These are offsite links; DaddyTips takes no responsibility for outside content.)
Jan 09 2015
Came across this article of tips about what to do when it's stupid cold outside. It appears to be warming up a little, but it's still cold. Really cold. Did I mention that it was cold?
The image above is, thankfully, not from my window. It's a NASA pic from the 70s. Looks cool, though, right? (Ouch. Bad pun. Sorry.)
One of the tips is to wear good socks, something that is near and dear to my heart. Or, more accurately, my feet.
Stay warm! Or as warm as you can. Cuz baby, it's cold outside.
(That's Ricardo Montalbán, by the way. He's awesome. The lovely lady is Esther Williams; they're singing Frank Loesser's Academy Award-winning song Baby, It's Cold Outside in the film Neptune's Daughter. Who says this isn't the DaddyTips age of extra information?)
Image: WINTER 1973 – 1974 MAMMOTH by NASA/Glenn Research Centervia via Archive.org
18 Ways to Stay Warm (and Safe) When It's Ridiculously Cold | NBC New York.
Related articles (Note: Some of these are offsite links; DaddyTips takes no responsibility for outside content.)
Aug 31 2014
Ready for more cool space news? This Gizmodo headline had me at "hello world" — NASA Will Reformat Mars Rover's Flash Memory From 125 Million Miles Away.
How neat is that? According to Gizmodo, "NASA's Opportunity rover is still trundling across the surface of Mars… But its software is getting bogged down, so NASA's doing a full system backup, memory wipe, and reboot. It's just like your routine computer cleanup, just from the next planet over."
The Rovers, Spirit and Opportunity (note to future Geek Gold Gard parents — good names for twins!) have 256MB of flash memory each.
Imagine it this way. It is the Dark Times, the days of Windows 95, 98, and (Lords of Cobol help us all) Windows ME. Eventually the computer running said operating systems becomes so filled with cruft that it is unusable. (To be fair, this happened to me recently with Windows 7, although that was more about the bloatware that came pre-installed on the laptop. But I digress.) You reformat the hard drive and re-install the OS. (In my case, after several years of this, you give up, buy a Mac, and become an iHole.)
Now imagine that you are doing something similar, but remotely. REALLY remotely. Like, you're on Earth and the computer is on frickin' MARS.
Remember, we promised to get more excited about space travel.
This XKCD comic was in the comments section on Gizmodo, but I'm reposting it here because (a) I can (XKCD is cool that way) and (b) it's funny.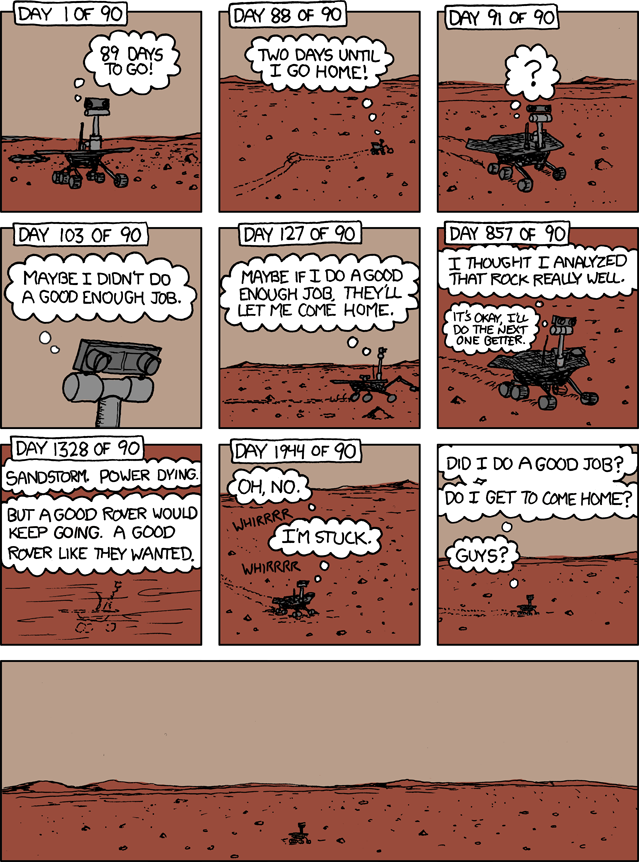 NASA Will Reformat Mars Rover's Flash Memory From 125 Million Miles Away – Gizmodo
Image via Wikipedia
Related articles 
(Note: These are offsite links; DaddyTips takes no responsibility for outside content.)