Posts Tagged 'sale'
Aug 30 2015
You might want this DaddyDeal if you have a cat. Currently on sale for almost 50% off the regular price.
Amazon.com : Purrfect Thermal Mat, Leopard Brown : Pet Supplies
Source: Amazon.com : Purrfect Thermal Mat, Leopard Brown : Pet Supplies
Jul 17 2014
Nice DaddyDeal on this wire shelving unit from eBay. List price is $269.99, sale price is $59.99. That's a savings of $210.00, or 78% off. (I didn't do the math. But I could have if I wanted to. Yes! I could. Stop saying I couldn't. I'm good at mathing.) Free shipping too. (That one requires no math at all.)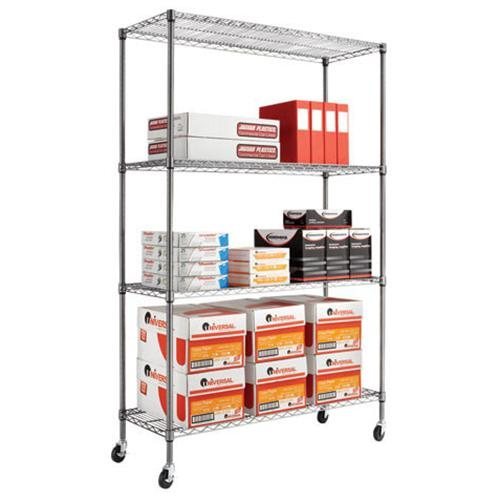 Limited time offer, your mileage may vary, we take no responsibility for anything that happens as a result of you buying anything, we're only providing you with a link. Still, if you happen to need some wire shelving, this looks like a darn good deal.
Alera® Complete Wire Shelving Unit w Caster 4 Shelf 48W x 18D x 72H Black | eBay.
Dec 17 2013
Amazon's least expensive Kindle is even cheaper, at least for a little while. As of this moment (Tuesday 2/17/13) you can get 20 bucks off the entry-level Amazon Kindle, today only
. It's right there on the homepage, just click the enormous banner touting the deal and select "Kindle With Special Offers". The regular price is $69. Right now it's $49. That is (drum roll please) 20 bucks cheaper. Who says this isn't the DaddyTips age of easy math?
Note that this deal is being touted by Amazon as "today only," which for us means "Tuesday, December 17, 2013." What time-zone is the cut off? Who knows. Your mileage may vary. Also note that the 20 dollar discount is only for the lowest-priced model, the one with "Special Offers", not any other Kindles. I was a little annoyed about this for roughly thirty seconds before I realized (a) that while I prefer my devices not to have advertising, the Special Offers aren't that big of a deal, and (b) this is such a First World Problem that I can't allow myself to whine about it.
Bottom line — actual limited time DaddyDeal here. If you want to save 20 bucks on Amazon's cheapest Kindle, go forth and make your purchase. Avanti!
Kindle – Best-Selling Ereader on sale — for now, so hurry up and buy it.
Oct 23 2013
DaddyDeal for you — big sale on MIMOBOT® flash drives, including Batman (DKR, as in Dark Knight Returns, or maybe Dark Knight Rises — if it matters to you, look before you buy, which you should be doing anyway).
Look at that cute scowl. And his enormous cranium. Doesn't it scream "buy me"?
Holiday gift giving season is coming up fast. Chanukah is on Thanksgiving. Seriously. If Chanukah is your holiday, you don't have as much time to shop as you did last year; you might want to start shopping now.
Flash drives actually make good gifts for kids. Why? Lots of reasons.
– Older kids can use them for school.
– Younger kids can use them to move files from a computer to the flash drive and back.
– Younger siblings can stop being jealous of their older sibling's flash drive.
All good reasons. And these particular flash drives are cute as well as useful.
Batman is listed as "almost gone", which isn't a big surprise considering the price is under 20 bucks as of this writing. (Pricing depends on memory size. And which character you buy. And other stuff. We just provide the link; details are at Mimobot.com.) If you don't want Batman, Mimobot's site has lots of other options, including Babo, Big Toe, Brickle, Emily the Strange (which we think looks a lot like Batwoman), Galacula, Galaxor2, Ice-Bat, and even Kilowog! Kilowog is "almost gone" as well. Why? Because Kilowog is AWESOME. (For those who don't know, Kilowog is also a DC character, part of the Green Lantern Corps.)

Sale ends 10/31/13, aka Halloween. Scary! (Not actually that scary.) Hit the link below to get your favorite Mimobot on sale before it goes bye bye.
On Sale! – Save Big on Mimobot USB Flash Drives | Mimoco.